Starting a blog does not require you to have expensive gears. A cheap laptop with sufficient computing power can do your job perfectly fine. You won't believe it, but here in India many even start off their blogging career from a smartphone. So it's a common myth at least for me, that blogging requires only premium laptops.
In this article, I am going to discuss whether a cheap laptop of a few hundred dollars is adequate for beginner bloggers or not, with explaining the reasons in detail. Also, I'll be giving some tips that will help you find a good blogging laptop on a small budget.
Do you even need a laptop to start a blog?
This question could sound like a joke to many if you're coming from English speaking countries. However, in India as well other similar emerging countries like Bangladesh, Pakistan, Brazil, it is indeed a valid concern for many enthusiasts who're looking to start their online blogging career.
Surveys conducted in 11 developing countries including India find that the vast majority of the youth of 20-35 years of age own or at least have access to a smartphone. The surprising fact is that an average of 53% of all selling smartphones is very capable of accessing the internet and running apps that require heavy computing power.
People from these nations say mobile phones have helped them do many things to improve their lives, both personally and professionally. I mean, if you check the statistics of how many popular Indian Youtubers today had started their career with a smartphone, you'd be surprised. Today blogging is a hot topic as millions of people are coming online and get connected with the rest of the world like never before.
The availability of the cheapest and high-speed internet in the world is also adding the fuel to the fire, making blogging a favorable career option for many enthusiasts from college students to even people trying to escape their 9-6 job routine.
So, the answer to this question is that you have the options. Starting a blog is not rocket science neither it requires a laptop or computer for that matter. Nowadays many entry-level smartphones have the processing power to handle many of the required tasks of beginner bloggers.
But a laptop would certainly boost your productivity and help write articles faster. You can also edit thumbnails for blog posts and customize WordPress themes even more efficiently with the help of a laptop.
Can you Even Star A blog from cheap laptop with low processing power?
Over the last 2 decades, blogging (previously known as weblogs) has become the most popular medium of writing & publishing articles over the internet. It has expanded to all areas of the World Wide Web; from private to academic, from cultural to professional, from commercial to pornographic.
So many things have changed, but one thing that remains untouched is the way we write, produce and publish content on the internet. Blogging mostly consists of researching on the internet, reading a lot of blog posts, news, eBooks, and writing content with a little amount of image editing involved in the process.
If you observe closely, you'll find that most of these basic tasks do not even require to have a powerful processor or in other words, computing power. Any computer processor (CPU or Central processing unit) from Intel or AMD above the 5th generation is very capable of handling all the mentioned tasks efficiently.
Although laptops with this specification have some limitations. I am not saying or advocating that a cheap laptop is the best, but I believe that we bloggers don't necessarily need a high-priced and high-performance laptop to start a simple blog.
A browser with sufficient computer RAM (8 GB or more) and minimal storage of 165 GB is adequate for long hours of web surfing, document writing (with online tools like Google Doc, Calmly Writer), and various administrative tasks such as designing & maintaining a blog site.
Therefore, a cheap laptop of a few hundred dollars is quite sufficient for starting out a new blog or at least at the initial stage. Unless you are more focused on creating YouTube videos that demand higher computing power, thus a premium laptop is more suited for that.
Anyhow, if your plan is to start off with a simple blog then there is no need to buy a premium laptop. So, it's very much possible to run a blog with a cheap laptop. You don't need a high-performance gaming laptop to write articles and publish on your blog.
A cheaper blogging friendly laptop of 200-700 dollars could do the job sufficiently and would be plenty to get by the initial mental block of thinking about the ROI (return of investment).
What are the qualities of a perfect blogging laptop?
Blogging provides us with many opportunities to have flexible working hours and more importantly a debt-free life. No wonder, the culture of living off of online jobs are increasing with each passing day.
Therefore, the demand for quality laptops has seen an upward trend, especially after the corona pandemic forces people to work from their homes. To address the growing demand for such portable computers and laptops, lots of companies have launched laptops in different price segments with endless variations.
So, finding a perfect blogging laptop without breaking the bank is not that difficult either. Here is a compiled list of cheap and entry-level laptops that I think can be a good fit for starting a simple WordPress blog. Once you see any traction in the incoming traffic to your blog, then you can think about upgrading to a premium and expensive model.
Now that you have a list of popular entry-level laptops, let us understand some parameters of a good blogging laptop so that you can find more blogging friendly cheap laptops by yourself.
#1. Browsers are your best friend, treat it well.
Needless to say, bloggers like us spend most of the day just surfing on the internet, researching new topics to write articles for, and a whole lot more. That means over 70% of the work we will be doing involves a browser in some way. So that our preferred laptop should have enough processing power to operate under a heavy browsing load (a lot of open tabs) without any significant slowdown.
#2. Battery life matters a lot
The primary task of a blogger is about writing content for its reader or audience. We all know that writing a good quality article could take up to several hours of hard work. So the laptop we will use must have decent battery life. In my opinion, laptops with over 8 hours of battery life are the best suited for blogging.
#3. Image editing demands a GPU chip
Blogging requires a lot of simple image editing work as well. From designing thumbnails for a blog post to simple image editing tasks, we're often in need of a good image editing software that can meet our requirements.
Even though we have some good alternative software in our hands, still most professional bloggers prefer Adobe Photoshop over anything. Anyhow, Photoshop could be a little heavy for a cheap laptop. So, either you can use Gimp (a great alternative to Photoshop) or use an older version of Photoshop to run it without any hiccups.
#4. You need a minimum of 165Gb of storage space.
It's a no-brainer that we will be needing enough storage space to back up all of our important files. So the laptop should have adequate storage space (Minimum of 165 GB) available for us to play with.
Although, today many companies offer cheap cloud storage that we can use to back up our documents and other important files. Google Drive is one of my favorites and highly recommend it to others. Alright, now that we have seen the required qualities of a good blogging laptop it is time to go deep into the matter and understand the shortcomings of using them.
What are the problems you might face with cheap laptops?
Well, when you use a cheap laptop you're essentially giving up on some qualities that could have been very helpful otherwise. I am going to discuss the top 3 of the most common disadvantages of using any cheap laptop.
#1. Cheap displays can cause eye strain
Cheap laptop displays often come with lower resolution (usually 1366 x 768px ) and a small display (13'' or 14'') that's not very good in terms of long hours of continuous usage. Even though every computer screen can make your eyes tired if used long enough.
Still as a full-time blogger you might find yourself having frequent dry eyes or headaches while staring at the screen for more than 3 hours of continuous writing or web surfing.
It's especially true on laptops with LCD screens than its LED counterparts. When it comes to eye safety, picture quality, low power consumption LED screens are the clear winner as it comes with a better display panel.
Also, LED screens are usually much brighter and visible under direct sunlight, so you can comfortably work on your laptop outside of the home. On the other hand, LCD screens emit blue light that not only negatively affects your vision but also impacts your overall health.
However, you can use software like f.lux that adapts the display color of the screen to the time of day, making it warmer at night and normal during the day. Another deciding factor of whether a laptop screen is suitable for blogging or not depends on the type of the display panel itself.
Usually, the screen with matte finishes is much preferred by writers; as glossy screens make lots of reflection, distracting you from work and leading to eye strain.
#2. Poor palm and thumb rejection while typing
Cheap laptops usually lack the properly usable trackpad (touchpad as some say) that can reject accidental palm and thumb swipes. It's particularly a big issue for bloggers as we write a lot.
I had a similar issue with an inexpensive Dell Windows laptop. Its touchpad is just not usable for blog post writing, even though the keyboard was not that bad. Windows precision drivers have always been lacking when it comes to providing a great touchpad experience. It has its issues that even great hardware can not do anything about.
That's why you see even many premium Windows laptops don't have trackpads that can compete with MacBooks. So, it is always better to prefer the laptop with a smooth touchpad and keyboard to maximize your working efficiency.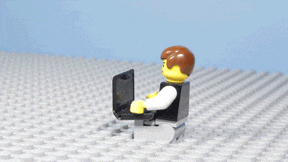 #3. Occasional freezes during a lot of web surfing
When companies decide to launch a cheap laptop for the masses, often times they prefer to use a low-powered CPU (or, the processor) that doesn't cost much but works pretty well for everyday usages.
One of the direct downsides of using such processors is that it lacks the required performance for a heavy workload. That's why you may encounter occasional freezes during web surfing with a lot of open tabs. Having more RAM (8GB or more) available on the laptop could fix the problem however, it can't go much further with such a low-performance CPU.
Conclusion
I can totally understand the budget constraint for those people who eagerly want to start off their successful blogging business. A cheap laptop of a few hundred dollars can help them put their first foot forward.
I have tried my best to explain the issues you would be faced with these budget-oriented blogging laptops including the reasonable thoughts that there's no need for purchasing an expensive laptop just for trying out if blogging is your thing or not.
So I can say that the choice is up to you as it depends on your budget and the specification you want when looking for a suitable blogging laptop.